Birthday Parties
Celebrate your next birthday or special occasion at Safari Adventure!
We offer four private party rooms perfect for your next family function. We will set up, clean up and handle all the details for your party adventure including food and beverage, birthday cake, invitations and thank-you cards. A Safari Adventure Party Guide will assist you in every detail from the party planning to flawless execution, so that your party is fun, perfect and hassle-free!
Please click here for party extras!
When booking a birthday party you are required to leave a non-refundable $100 deposit to book the date. If for some reason you need to change the date, you will need to provide at least 14 days notice and you will be able to apply your deposit to any available date or time within the next 2 months. Any party canceled with less than 14 days notice will forfeit the deposit.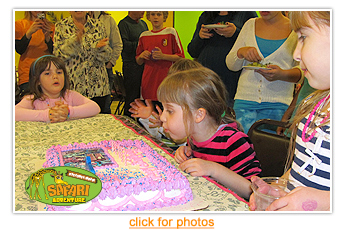 All Parties Include:
12 children
Stay-n-play all day

Safari birthday cake
Private party room for 90 minutes

Themed paper goods
Safari party guide
Safari Adventure can easily accommodate large groups, camps, scouts, field trips, church & youth organizations and fundraisers.
Please call us at (631) 727-4386 to get started with your child's Safari Adventure today!
Military Appreciation

Safari Adventure takes pride in honoring our military service men and women who serve our country selflessly. As a token of our appreciation for the sacrifices our military families make, our admission is 15% off to all children of military families. Just show a valid military ID card. We want to encourage fun family time and it is our way of saying "thank you" for the sacrifices you have made!
Play, Climb & Expore
11,000 Square Feet of Clean Indoor Fun!
4 Level "Kilamanjaro" Playground
4 Private Rooms
Awesome Fundraising Options!
Video & Skill Games
Lion's Den Cafe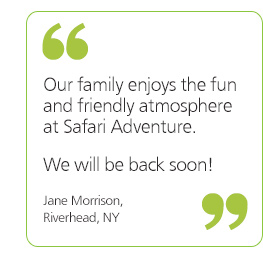 SUMMER FUN – PROGRAMS & CLASSES – PRINT GUIDE
Gym Nation and Safari Adventure are teaming up offering a fantastic six-hour summer camp program! The day begins at Gym Nation for action-packed gymnastic fun. Gym Nation incorporates games and activities while offering instruction on Olympic apparatuses, in-ground tumble trax, trampoline, and foam pit. Midday, the children are escorted next door to Safari Adventure, checked-in by a Safari Counselor. Children will enjoy lunch, then climbing, bouncing, and sliding in open play area and tokens for games. The children will head to their assigned room for snacks and activities until pick up at 3:30pm.
Want to learn more about this business? Send them a direct inquiry.
Be a good fellow parent and share this with a friend who would be interested
Read More on NYMetroParents.com:
Long Island Dad on Mission to Make Swim Time Safer for Kids
One Long Island dad is making it his mission to teach children about pool and swimming safety through the Long Island Drowning Prevention Task Force.

11 Fun Father's Day Events on Long Island
Looking for fun and low-cost things to do with your dad on Father's Day in Long Island? Our guide includes 11 family-friendly events in Baldwin, Cold Spring Harbor, Floral Park, Old Bethpage, Oyster Bay, Riverhead, and Rockville Centre.

Summer Activities in Rockland County, NY
Searching for great summer activities for kids in Rockland County, NY? Use our guide to find kids classes, Rockland summer camps, summer programs, activities near Rockland County, and family excursions close by. Find all of your summer activities from Nyack to Suffern in Rockland County.

Meet the Intern: Melanie Shapiro
Meet Melanie Shapiro, one of NYMetroParents' summer 2013 editorial interns.

Talent Development Center Opens in Melville
Talent development center Tower Talent recently opened a location in Melville. The center scouts for and coaches aspiring actors, performers, and models to gain representation from an agency and book jobs. Tower Talent also brings industry representatives to Melville to interview its talent.

Asphalt Green's Battery Park City Location Offers Family Programming
Asphalt Green's new Battery Park City location offers the same athletic and fitness programming to youth, adults, and families, as well culinary and cultural classes. Asphalt Green also offers summer day camp for children ages 4-13, which includes sports and swim instruction, as well as cultural arts.

7 Fun Father's Day Events in Westchester
Looking for something fun to do for Father's Day in Westchester County? Here are 7 great low-cost events for kids and families in Mount Kisco, Scarsdale, South Salem, White Plains, Yonkers, and nearby in the Bronx.

Manhattan Laser Tag Can Bring the Party to You
PARTYpoopers, Tribeca-based party planners, now offers Manhattan Laser Tag Parties. The laser tag birthday parties can either be hosted at the PARTYpoopers location or at a location of your choice—they bring the party to you for birthday, graduation, or bar/bat mitzvah parties. The laser tag is designed for children ages 8 and older and is completely safe, using only light.

Athletic Training School Building New Facility in Port Washington
Athletic training facility Parisi Speed School is currently holding its classes at the Port Washington Tennis Academy while its new facility is being built. The training center offers fitness classes for ages 7 to adult that build agility, strength, speed, and self-confidence, while helping athletes get and stay in shape.

A Father's Letter to His Children on Wilderness and Love
Author and father Charles R. Scott of NYC writes a letter on boredom, wilderness, and love to his two young children with whom he has taken on a 46-day cycling adventure around Iceland.