New York Therapy Placement Services, Inc. has been a leader in the health care services arena for over 25 years. Founded in 1986, the company plays an integral part in both the public and private health care sectors. We are proud of our reputation of "excellence" and commitment to providing services in compliance with local, state and federal guidelines. Our services are diversified and we pride ourselves in working with only the most experienced clinicians that are interested in making a difference in the lives of others.
Do you have questions or
concerns about your child's development?
New York Therapy Placement Services, Inc. is a full-service resource for your child & family.
We are here to help.

We provide evaluation and treatment for the areas below, in the home setting or in our state-of-the art Sensory Gym and Language Center:
Occupational Therapy &
Therapeutic Listening
*Sensory Experts / Sensory Diets
*Handwriting Experts
*Sensory Motor Groups
Physical Therapy
Speech and Language Therapy
*Stuttering Experts
*Feeding Experts
*Prompt Trained Providers
*American Sign Language and Baby Signs
Behavioral Intervention (BCBA)
*Verbal Behavior
*Functional Behavioral
*Assessments (FBA)
*Behavior Intervention Plans (BIP)
*Crisis Intervention
Special Educators
*Parent Trainers
*Activity Schedules
*PECS (picture exchange Communication system)
Psychology
*Counseling
Social Work
*Social Skills Group
*Play Therapy
FUNDING OPTIONS:
Nassau/Suffolk County Dept. of Health Early Intervention
NYS Dept of Education – Nassau/Suffolk County CPSE/CSE
Insurance
Private Pay
Contact our Parent Liaison Monica Nichols at (631) 473-4284 ext 119 or monica.nichols@nytps.com
Our Saturday Sensory Motor & Social Groups provide a wonderful opportunity for the children to socialize, play on the sensory equipment and have FUN in a safe and productive setting !!!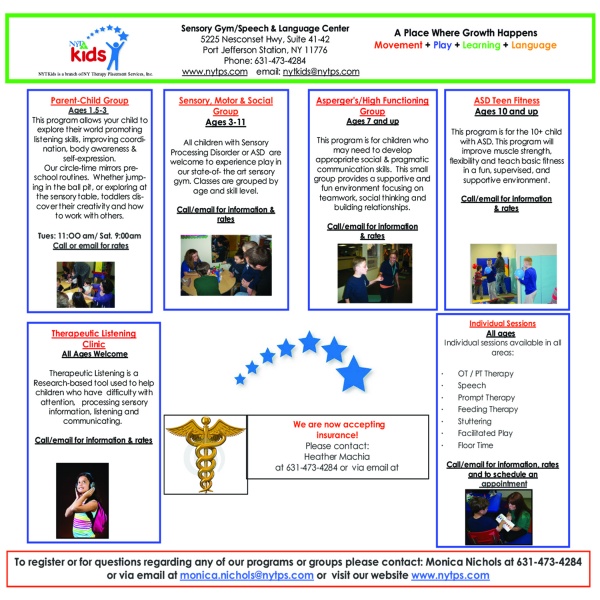 SPECIAL PARENT - SERVING MULTIPLE DISABILITIES/OFFERING A VARIETY OF SERVICES
New York Therapy Placement Services, Inc. is a full-service multidisciplinary healthcare agency serving clients of all ages in the five boroughs of New York City, Nassau and Suffolk Counties. We are experts in the placement of therapists for Speech Language Pathology; Occupational Therapy; Physical Therapy; Special Education Teachers; Psychologists; Social Workers; Teachers for Blind and Visually Impaired; and ABA Specialists. Evaluations and treatments can be done in schools, preschools, daycare centers, or your own home.
Read More About New York Therapy Placement Services
New York Therapy Placement Services Re-Launches Saturday Program
New York Therapy Placement Services, which offers a variety of therapy services for kids in Port Jefferson including speech, occupational, and physical therapy, will re-launch its Saturday sensory motor and social skills groups for children.