Harvest Fall Festival At Borellas Farm Stand

Family Owned and Operated For Over 55 Years
485 Edgewood Ave, St. James 631-862-7330
Every Saturday and Sunday in October and Monday October 12, Columbus Day
10 a.m. to 5 p.m.
Bring the family and enjoy:
·You pick pumpkins from the vine from a real field
·Hay Rides
·Corn Maze
·Face Painting
·Live DJ Entertainment
·Roasted Corn
·Lots of Food
·Inflatable Rides for Children
·Candied Apples
·Paint A Pumpkin
·Apples & Apple Cider
·Freshly baked pies
·Fruit Breads
·Lots of family photo opportunities
Come and have fun - visit our farm stand stocked with fresh fruits and vegetables all grown on the premises.
General Admission: $12 Children Under 3 FREE
(includes hay ride, corn maze, and inflatable ride)

Plenty of FREE parking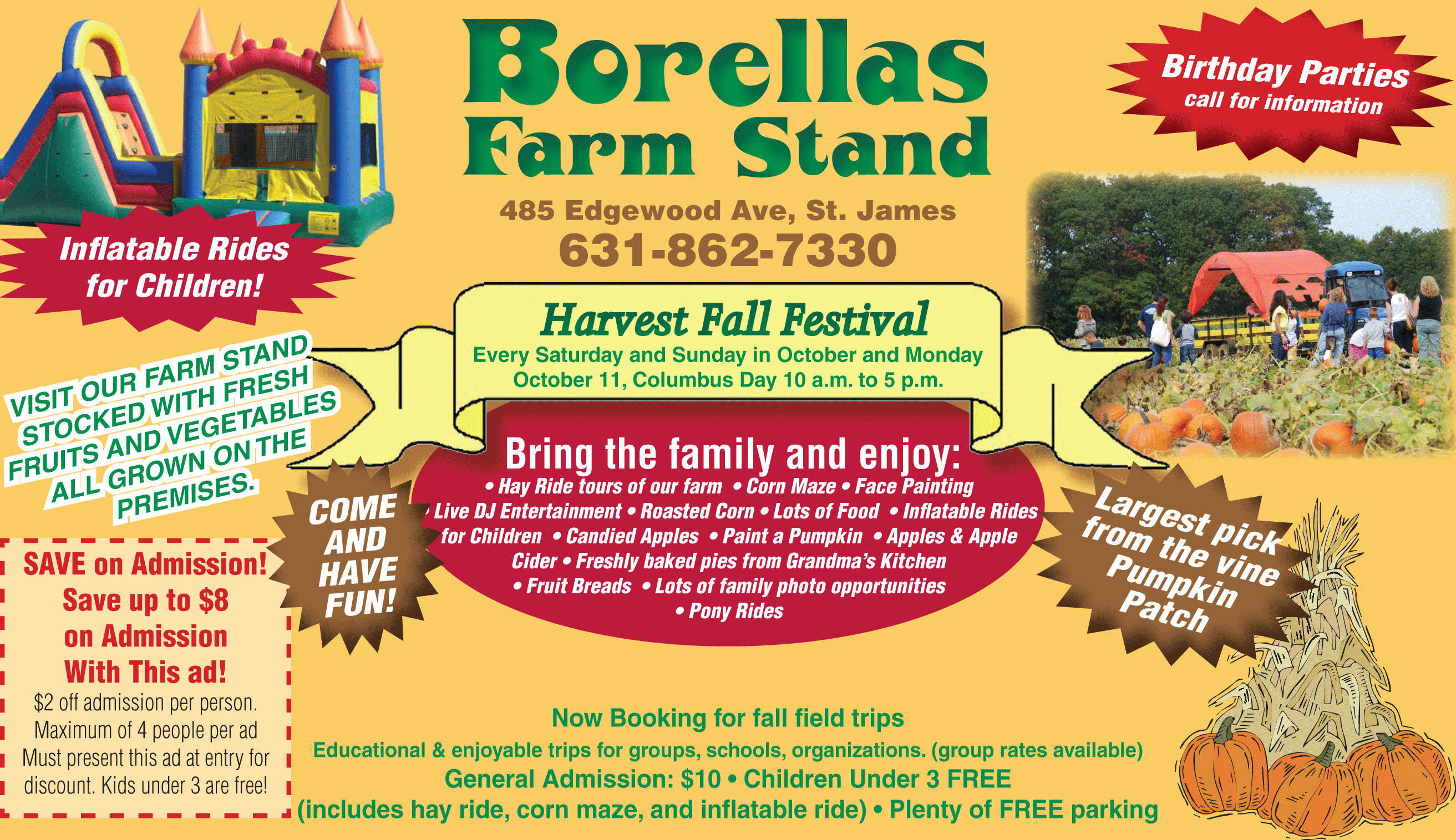 BIRTHDAY PARTIES
Have a Pick-A-Pumpkin party, take a hayride through a real farm, and pick your own pumpkin off the vine. Enter our crazy corn maze and maybe get lost. Don't worry, we'll find you. Come back to our obstacle course and our bounce and slide inflatables. After you finish, you can enjoy pizza, juice, and a birthday cupcake. Parties are 2 hours and only available in October. Call for more information. Also, come to the annual Fall Harvest Festival at Borellas Farm Stand on Saturdays and Sundays in October, plus Monday, October 8th for Columbus Day.
Want to learn more about this business? Send them a direct inquiry.
Be a good fellow parent and share this with a friend who would be interested
Read More on NYMetroParents.com:
Grammy Nominated Matisyahu Helps Spread Anti-Bullying Messages on YouTube
Grammy Award-nominated Matisyahu invites artists to spread messages of anti-bullying and self-empowerment by submitting their own covers of the song "Live Like a Warrior" on YouTube.

Summer Activities in Westchester County, NY
Do you need great summer activities for kids in Westchester County, NY? Use our guide to find kids classes, Westchester summer camps, summer programs, activities near Westchester County, and family excursions close by. Summer activities in Westchester are at your fingertips.

Three Little Piggies Debut at Queens Zoo
Queens Zoo welcomed three rare domestic pigs, mulefoot hogs, to its grounds in May.

Raising a Bicultural Child
One mom shares her thoughts on raising her half-Filipino, half-all-American children in a way that honors her multicultural family tree.

14 Fun Mother's Day Events on Long Island
Looking for fun Mother's Day events on Long Island? See our list for where to make Mother's Day gifts, where moms get free admission on the holiday, and more in Cold Spring Harbor, Glen Cove, Old Westbury, Oyster Bay, Riverhead, and beyond.

Theater Review: Off Broadway's 'Old Hats'
"Old Hats," the Off Broadway show by comedy duo Bill Irwin and David Shiner, combines old-school vaudeville with live music and modern technology for a mostly family-friendly show brimming with irony and hilarity.

14 Fun Mother's Day Events in Westchester
Looking for fun things to do for Mother's Day in Westchester County, NY? Our list includes Mother's Day crafts, shows, and outdoor activities in Katonah, Montrose, Mount Kisco, Peekskill, Rye, Scarsdale, South Salem, Tuckahoe, White Plains, and Yonkers.

The Best of the Rest of the Web: Mother's Day, Being a Man, and Why It's Not Easy Being a Rich Kid
From the NYMetroParents May issue, a selection of thought-provoking, laugh-inducing, and just plain interesting facts and quotes from the web and the world of parenting.

Ask The Expert: How Can I Help My Child Become A Strong Leader?
We all want our kids to stand out in a crowd, be the leader of the pack, and most of all, be confident in their abilities to move forward in this world. But what about the quiet kids – can they be leaders? And how do we teach any child the skills they need to be a leader and the value of learning new things? We spoke to Shakeh Tashjian, the director of Dwight-Englewood School Summer Connections program in Englewood, New Jersey, to discover how to teach your child leadership skills and a love of learning for good measure!

Prime Time for Equines
Westchester County will host the iconic American Gold Cup 2013 equestrian competition this September, an international show jumping event.