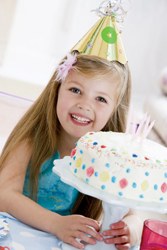 Food at parties seems to be an increasingly challenging issue. Some parents have gone organic, while more kids are diagnosed with allergies and lactose intolerances, and then there is the old-fashioned picky eater. See what advice the experts in your area had for parents about serving the right food at your child's birthday party:
"Contact the parents hosting the event to find out what they'll be serving. If the child is unable to eat the food items being served, the parent can bring in a gluten free slice of pizza or cupcake so the child doesn't feel deprived."
-Jodi Levine MS, RD, CDN, Director of the Dietetic Technician Program at Suffolk County Community College
"Make the food as simple as possible. The biggest concern is peanut allergies, so we use a pizza vendor that does not use peanut oil. And if a parent asks for something specific, we can provide it."
-Mike Martinek, Director of Bounce U, Farmingdale
"We try to take that worry out of the equation for parents by offering both a nut free and kosher environment at all our events. If parents have other concerns, we suggest they bring their own meals and desserts for their children."
-Kristie and Valerie, Owners of Just Fabulous & Outrageous Events!, East Northport
"If there is a problem with nuts or a lactose intolerance, parents can ask to bring something different for their children. Know your child and know your guests and discuss any issues with the party planner."
-Dennis Borghese, Owner of The Pet Zoo on Wheels, Commack
"We offer whole wheat pizza and juice instead of soda or anything with high fructose corn syrup. If there is an allergy or issue, we advise parents to let us know and we'll supply another choice."
-Pat Olchovy, Director of Parisi Speed School, Islip