You Can Do It!
We asked child experts on Long Island for their best advice on how to instill and cultivate self confidence in children.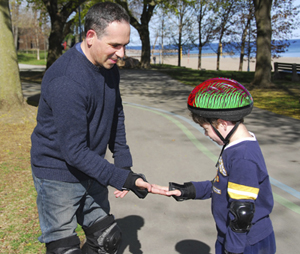 Experts agree that self-confidence is one of the most important contributors to good mental health for any individual, and the earlier you instill this trait in your child, the better his chance of success in many areas of life.
In addition to setting a good example for your child, one of the keys to fostering self-confidence is to genuinely support your child's efforts-even if the outcome of those efforts is less than perfect. "If a child has worked hard, that should be acknowledged. That is what motivates children to keep trying," says Siobhan Powers Streams, director of Landmark of Ridgefield Academy in Westport, CT. It's important to keep in mind, though, that encouragement and flattery are two different things, and the latter can actually harm your child's self-confidence in the long run.
"I believe that encouragement, rather than praise, is most helpful in developing healthy self-esteem in children," Powers Streams says. "Praise is evaluative and teaches the child to seek the approval of others, while encouragement teaches the child to value herself and the efforts that she makes. As a parent, your goal is to help your child develop the confidence and sense of competence that will allow her to make good decisions and not need the approval of others."
Read on for more advice from local experts on how to instill and cultivate self-confidence in your child.
What is your best advice for raising self-confident children?
"Raising children to be self-confident is a goal that most parents share, but how to do so effectively (and without going overboard) has become particularly challenging. Excessive praise and flattery eventually feel false to children and can raise doubts about their true ability and worth. Overusing praise can actually discourage a child because it becomes impossible for him to always live up to other people's expectations.
In the safe environment of the home, parents can provide ample opportunities for children to build their self-confidence by giving them age-appropriate responsibility for personal and household tasks. The key to doing this successfully is to create a supportive environment where children can make mistakes (and learn from them) without a parent berating them or losing patience. When parents communicate unconditional love, acknowledge and encourage their child's efforts, and allow their child to act independently, they allow a strong sense of self-confidence to develop.
It's also important to refrain from rushing in to rescue a child from a difficult situation. Self-confidence is built when a child is given the opportunity to work through solutions to a problem. Parents should help children cope with inevitable difficulties, defeats, and disappointments rather than trying to shield them from the experience.
Children with healthy self-confidence know that the adults in their life love and accept them for who they are. Parents can't simply give their child a healthy self-esteem, but they can nurture its development from within."
-Karen Horowitz, director, Parenting Resource Network, Friedberg JCC, Oceanside
"The best thing we can do to help our children become more confident is teach them how to cope with life's disappointments gracefully. It is easy to be confident when things are going well, but it's more difficult to keep your head held high when obstacles stand in the way.
Children should also be acknowledged when they work their hardest, regardless of the outcome. Encouraging children through the process of a task, rather than the end result, helps children learn the value of achieving one's potential. Unrealistic expectations such as winning every game or getting an A on every test will deflate a child's confidence because real life doesn't work that way. Children will be far more sure of themselves if parents help them through challenges and reward what counts."
-Melissa Essigman, admissions director, Trinity Lutheran School, Hicksville
"To achieve self-confidence, children need a positive and supportive environment. It is always important to recognize the good things children do, whether at home or at school. Self-esteem and confidence will grow when a child's efforts are praised, whether he is learning new skills, attempting a difficult task, or being kind to friends and/or siblings. Praise can be given both verbally and physically - for example, by saying 'Well done' and giving a high-five or hug. The efficacy of a certain type of reinforcement will differ depending on a child's age and the task he is attempting. For example, young children may feel good about learning to tie their shoes when they are supported through high-fives or hugs. But adolescents may require a different kind of reinforcement when struggling with algebra or failing grades. In this situation, children may need more support to feel confident. You can share a story about how you as a parent were successful in a challenging situation, which will help your child feel less alone and more at ease.
Children often imitate their parents, who are their first role models. If a parent is easily discouraged when facing new challenges at work and talks about these situations negatively at home, a child will witness and imitate the actions of this unconfident parent. However, if a parent tackles new challenges with an optimistic attitude and speaks about them positively at home, a child will see and imitate the actions of a self-confident parent who is open to new experiences."
-Cecelia Lynch, social worker and intake coordinator, Mill Neck Manor Early Childhood Center
"To build self-confidence, parents need to foster a non-judgmental environment that encourages children to evaluate themselves fairly. My husband and I achieve this by showing interest in our children's work, encouraging positive choices, asking them what they are thinking and feeling, and showing respect when they share their ideas and thoughts.
We try not to say things like 'Good job' or 'That's a beautiful drawing.' Instead, we make nonjudgmental observational statements like 'That is a yellow circle' and 'Mrs. Potato Head has five arms.' This is effective in helping children learn how to evaluate themselves, which ultimately means they will not need the praise of others to know they have done well. Have confidence in your child, and they will be confident!"
-Rebecca Kammerer, co-founder, Parent Sense, Inc., Garden City
"Parents need to continually present many acceptable choices to their children - whether it's a choice between which activity they'd like to participate in or what they want to wear to school that day. Let the child choose, and stand by his choices."
-Howie Feinstein, director, Kenwal Day Camp, Melville
"The best advice for raising self-confident children draws from Howard Gardner's multiple intelligences. By this theory, adults should foster a child's unique skills and recognize her individual strengths, challenges, and interests. Set high but realistic expectations for your child based on her individual stages of development and temperament.
As adults, we are role models for our children. They learn to respond to challenges and frustrations based on how we handle such situations. To be a good role model, you should take accountability when you make a mistake, demonstrate what you learned from your mistake, and talk about how you can do a better job next time. This is a great way to show children that you are confident in your own ability to take a risk and try, even if the results do not always lead to success."
-Ingrid Gutierrez, Woodbury director, Bright Horizons, school locations in Woodbury and Cavalier
"Teach by example. How we think about ourselves - and whether we find value in our selves - translates into how we teach our children. Our ability to parent our children well is directly related to our ability to 'parent' ourselves. If you are going to do something around the house, no matter how trivial you may think it is, insist your children accompany you. While you can, be their role model.
Teach them to think on their own. Starting at an early age, give your children responsibilities and accountability. Set age-appropriate goals for your child, and lay out the steps needed to reach that goal. Keep raising the bar, but not too high! Remember your child's age and stage of development. Always pay attention to his emotional limitations, and monitor your response for appropriateness. Confidence comes about through experience. Step back and allow your children to get experiences for themselves. Give them every opportunity for responsibility in the home so they learn to be responsible outside of the home.
Teach them to learn from their mistakes. In addition to encouraging your children to commit to a project, you must also allow them to experience disappointment when it occurs. If we carefully monitor our children's activities and pay attention to whatever unfolds, we will be able to provide then with great opportunities for understanding life's unexpected twists and turns.
Teach them resilience. Don't step in too quickly and rescue your children when you see disappointment coming. Instead, be there to give them a hand up. Be there for them, and help them take stock of the situation. Listen as they talk about their feelings of disappointment."
-Damian Forletti, MD, FAAP, Kids First Pediatrics, with offices in Port Jefferson Station and Wading River
"The most important thing parents can do to help their children build self-confidence is to be a model of self-confidence themselves. Children reflect what they see, hear, and watch others do. Therefore, the more self-respect you have as a parent, the better you will be able to foster this trait in your child. If you as a parent are having an issue with your confidence, I suggest you 'fake it till you make it.' Research has found that if you regularly display a certain type of behavior, it eventually becomes ingrained in your everyday behavior.
You can never give too much praise, as long as it is honest, straightforward, and from the heart. Authentic praise is always more effective than syrupy sweet, repetitive praise. Examples of appropriate praise include 'Good job,' 'I'm so proud of you,' 'You used good judgment,' and 'That was a healthy choice.' This type of praise will help increase self-esteem and confidence as well as foster a trusting relationship between parent and child."
-Doris M. Aptekar, Ph.D., LMHC, psychotherapist, school psychologist, certified teacher, serving Nassau, Suffolk, and Queens counties